ONGOS DEVELOPMENT SEWAGE TREATMENT
NCASE Consortium was awarded the contract to provide the civil, mechanical and electrical works for the new Ongos Waste Water Treatment Plant on a turnkey basis to treat the domestic waste water from the Ongos Valley Development.
The plant is based on trickling filter technology and is designed to consistently produce a final effluent conforming to the required standards with only very minimal operator input. It can withstand seasonal weather changes and significant fluctuations in incoming wastewater load, without continuous process monitoring and operator input.

The plant produces a high quality semi-purified water that can be safely re-used for various irrigation applications, thereby helping to conserve scarce fresh water resources. The plant was completed in October 2020, and is ready to begin receiving sewage from the Development once residents begin moving in.

Specifications
Treating up to 1,000m3 per day domestic sewage to Namibian Special Standard for discharge to nature or agricultural reuseTreatment steps
Screening
Primary settling
Anaerobic & aerobic biological treatment
Clarification
Disinfection
Polishing by sand and GAC filtration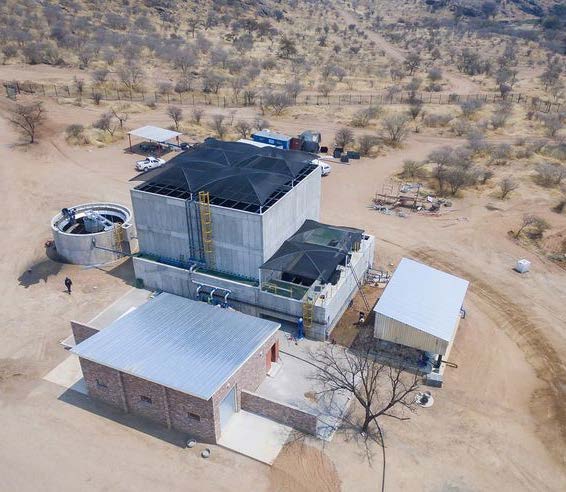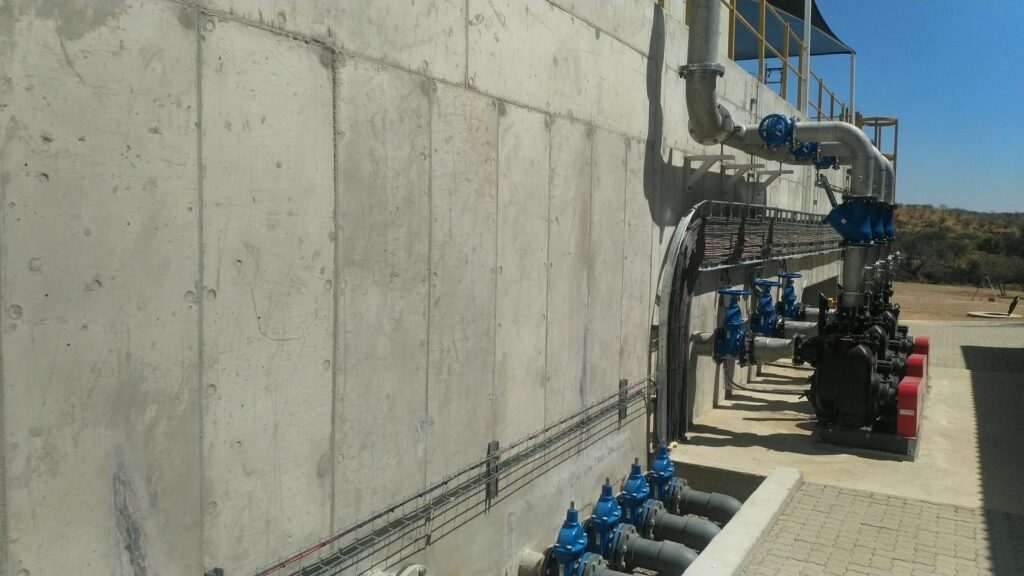 NAMWATER EENHANA FLUORIDE REMOVAL
The Namibia Water Corporation (NamWater) appointed ASE for the supply and commissioning of a defluoridation package plant with a capacity of 80 m3/h at the Eenhana Water Scheme, in Northern Namibia in 2019 to treat the ground water extracted from the Ohangwena Aquifer to Class A requirements, with the main parameter of concern being fluoride at a concentration in excess of 3 mg/L.
While the original enquiry called for a defluoridation plant based on activated alumina adsorption, ASE proposed an alternative approach based on reverse osmosis for the application. This proposal was accepted based on the significantly lower operating costs that were projected for the reverse osmosis plant as opposed to the activated alumina system. ASE provided a containerised reverse osmosis plant with a design capacity of 64 m³/h, with a side-stream blending of the raw water to achieve a stabilised product water with all parameters falling within Class A requirements. The plant was completed in November 2019, and after a successful trial operation period was taken over and is currently being operated by NamWater, providing consistently excellent drinking water to the town.
Specifications
Reverse osmosis treatment of ground water with high fluoride concentration to produce a Class A product water for the supply of potable water to Eenhana Town
Treatment Steps
Micron filtration
Reverse osmosis
Side-stream blending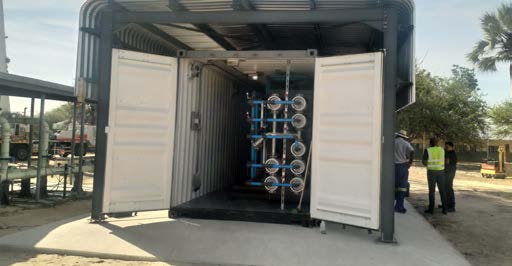 NAMIBIA BREWERIES LTD GROUNDWATER TREATMENT
In 2018, ASE was selected from among a group of international bidders to provide a complete treatment plant to treat up to 100 m³/h of ground water extracted on the premises of Namibia Breweries Ltd in Windhoek to a suitable quality for use in the brewing and production processes.
The main objective of the project was to provide a stable source of high-quality water for production even in times of water scarcity such as the drought that had been experienced in the previous years. ASE offered a state of the art plant in conjunction with Berkefeld, a Veolia Water Technologies Germany Company and well-known specialist provider of high-quality solutions for food & beverage application.
The detail plant design was carried out collaboratively between NBL, ASE and Berkefeld, and the complete plant was manufactured and assembled in Germany before being shipped to Namibia. ASE carried out the on-site installation in conjunction with installation and commissioning supervision provided by Berkefeld field technicians and engineers.
The plant was completed in December 2019 and has been in operation continuously since then, providing a stable and secure, high quality product water for all the production lines at NBL.
Specifications
The design capacity of the plant requires 2 x 50 m³/h of product water according to international drinking water standards. A minimum raw water capacity of 40 m³/h had to be taken into consideration, as the client would not necessarily always run the treatment plant at full capacity.
Treatment Steps
Optimizing pH level by acidic coagulant to allow for removal / lowering of iron, manganese and alumina upstream of the reverse osmosis system.
Chlorination for oxidation and disinfection
ACTIFLO ® as central process unit for lowering Fe, Mn, Al, Silica, Turbidity, etc.
Break tank
Generous filter bed for final removal of iron and manganese
Desalination by RO system – Storage tank for treated water, disinfection and distribution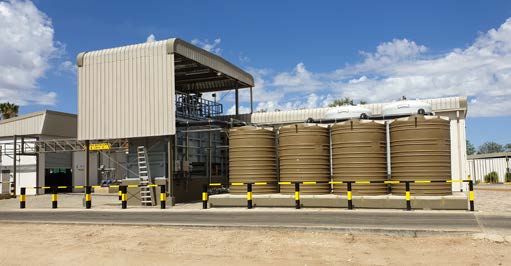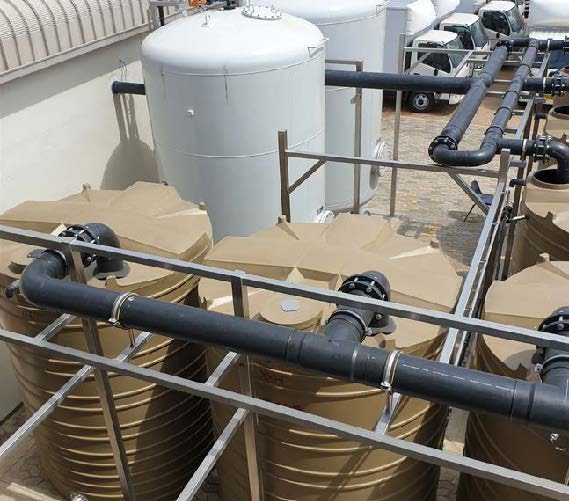 MIDGARD COUNTRY ESTATE SEWAGE TREATMENT
As part of extensive renovation and upgrading work being conducted by O&L Leisure at the prestigious Midgard Country Estate close to Windhoek in 2020, ASE was appointed to provide a suitable sewage treatment system to cater for the sewage produced at the Estate, in order for the facility to be able to reduce their overall environmental footprint by re-using the treated water for the watering of the extensive gardens and lawns which are important attractions for the visitors to the Estate.
ASE offered a containerised sewage treatment plant employing new generation trickling filter technology to treat the expected sewage of up to 50 m³/d, or 560 population equivalent (PE) capacity, featuring several advantages such as:
Simple, reliable technology: Trickling filters rely on attached growth technology (a biological process) with hydraulic distribution and control, can accommodate large fluctuations (quality and volume) of inflow and can even accommodate shock loads.
Minimal automation and control. Because of the simple technology employed, automation and control is minimal and the system is therefore very reliable, robust and easy to operate.
No skilled operators required. Hydraulic control and operation of the system removes the need for continuous process adjustments to cater for inflow fluctuations as well as seasonal adjustments (winter/ summer/winter) due to fluctuating temperatures.
Low sludge production. The aerobic sludge produced in the trickling filter is returned to the anaerobic (septic) tank, where it is anaerobically digested to approximately 3/10 of its original volume, thereby minimizing the need to continuous sludge removal.
A containerised plant allows the minimization of project duration, costs and installation time on site. The containerised option allows for high quality finishing and factory testing of the complete plant prior to delivery to site.
The plant was installed and put into operation in December 2020, and after a short start-up period to allow the biological processes to establish successfully, started producing treated effluent compliant with the Namibian General Standard, suitable for use in the watering of the gardens and lawns of the Estate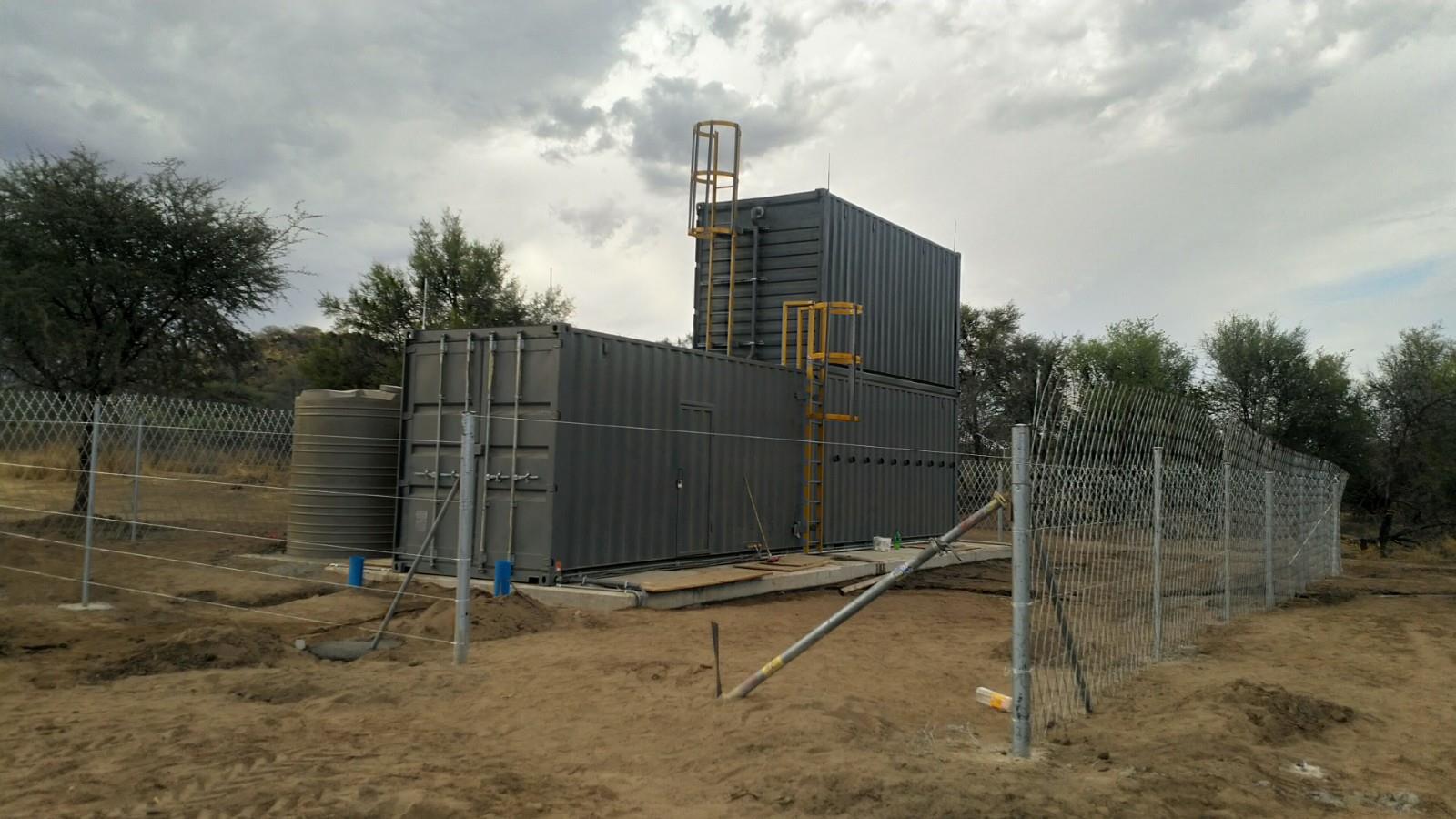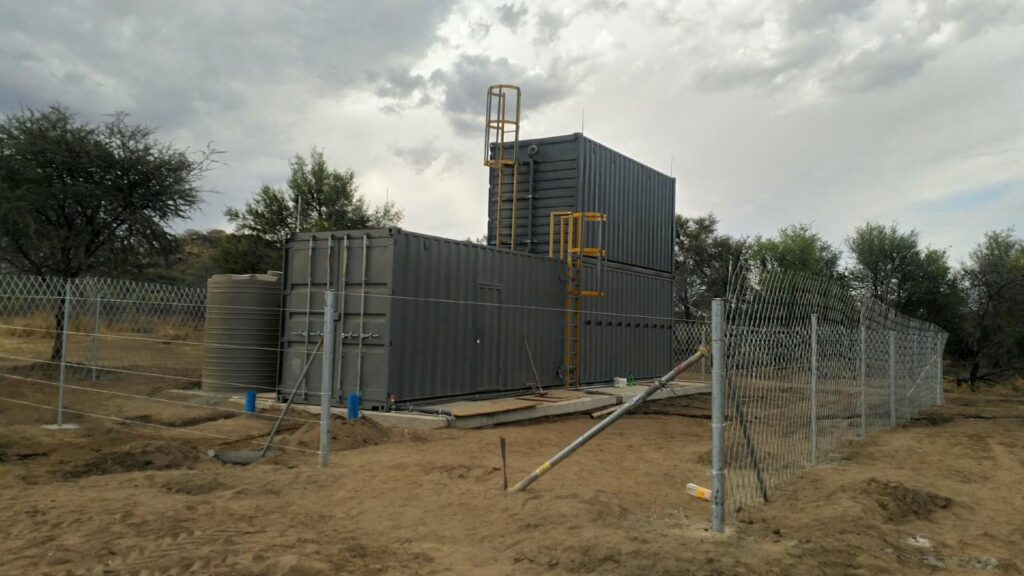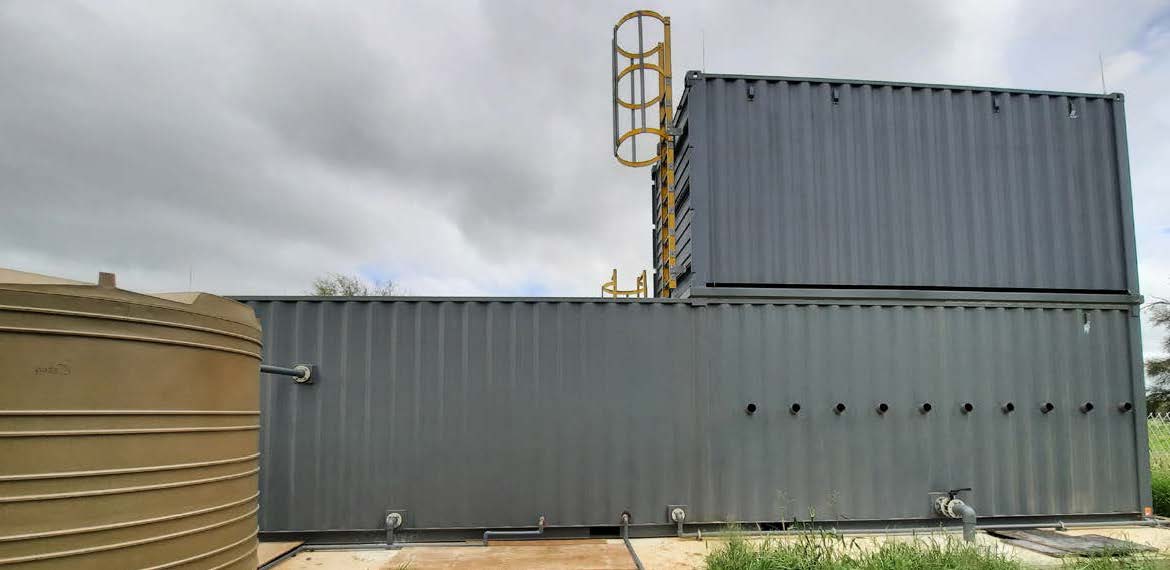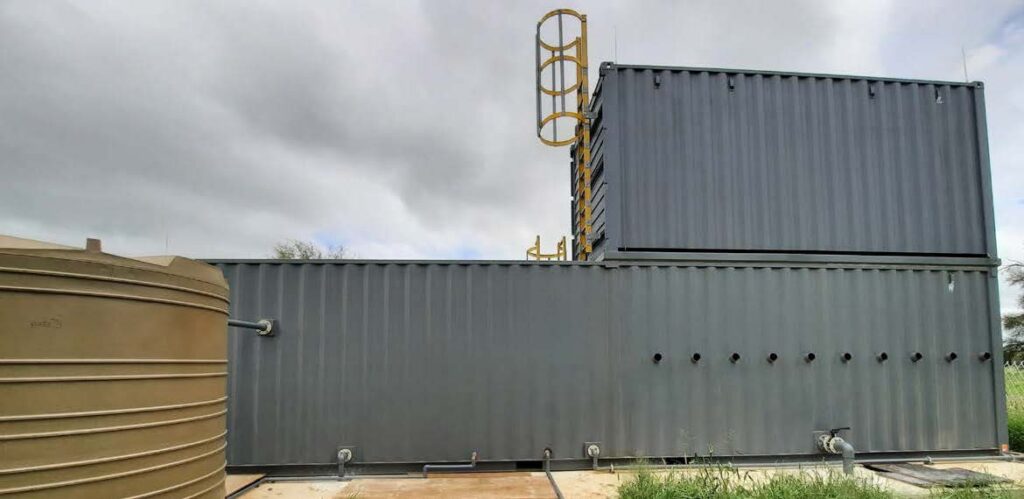 MIMBULA MINE POTABLE WATER TREATMENT
Our team includes extensive capabilities and experience in the following:
Chemical, process and mechanical engineering
Plant optimizations
Pump and piping sizing and design